'The world's in good hands'
New group of changemakers complete MA requirements
Friends, family, faculty, and staff gathered at School for International Training on December 14 to celebrate students' completion of their master's degree programs in a ceremony that capped an intense week of final capstone presentations.
"The world's in good hands with this group of students," declared Dr. Bruce Dayton, chair of SIT's peace and justice programs and lead facilitator of the capstone seminar and recognition ceremony. "When those dark clouds come rolling in, when you pick up the paper or hear the news, it's easy to be filled with despair. The antidote to that is the capstone seminar."
During the previous week, 12 students presented their final capstone projects in subjects ranging from sustainability in the cacao industry to challenges for transgender students studying abroad. In brief remarks at the final ceremony, SIT President Dr. Sophia Howlett announced that all completed programs had been approved, and she invited the students to participate in SIT's annual commencement ceremony in May. "But today is about you, about your capstones and your experience," she added.
Dayton advised the students: "Go forth, create new things, let your voices be heard, share all you know, and be generous."
One student who was not present was Katherine Hodgson, who died in August at her home in Portland, Maine, while completing the reflective practice phase of her MA in International Education. "Katie loved SIT. She wanted to learn, showed up for class, didn't mind being asked questions, and shared the ideas of her research," said Dr. Sora Friedman, chair of SIT's International Education program. Although her research was unfinished, it has still benefited the communities and organizations where she lived and worked, she noted.
Katie's mother Susan went through her work and submitted an extensive final report to complete the program so that her daughter could receive a posthumous degree.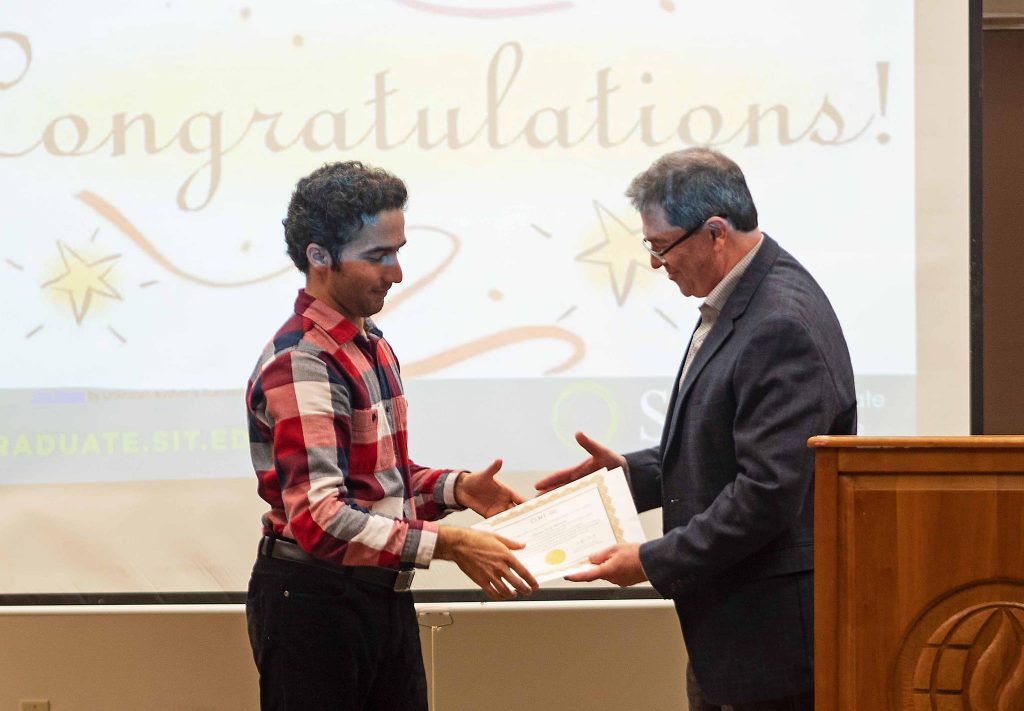 Four MA candidates focused their capstones on refugees and human rights. For his final Sustainable Development project, Ahmad Momeni of Afghanistan created a detailed monitoring and evaluation plan for the refugee services program of Islamic Relief USA in North Carolina.
Kenneth Mukonyezi, who is originally from Uganda and is seeking asylum in the United States, was one of five Global Scholars from migrant communities who received full scholarships from SIT Graduate Institute in 2016. In his Peacebuilding and Conflict Transformation capstone, which looks at how several Boston-based nonprofit organizations support refugees and asylum-seekers, Mukonyezi argues that "far too often communities treat refugees almost as charity cases instead of full members of their community entitled to their rights," said Dayton.
Two others also earned their MAs in Peacebuilding and Conflict Transformation. Marko Lundgreen Carrasco examined how human rights defenders in Columbia and Mexico are affected by state-sponsored violence and the role peace journalism can play in nonviolent campaigns. Dayton called his work "path-breaking" and said it "stands at the forefront of activism and peacebuilding."
Betty Dusenge originally came to SIT from Rwanda to participate in SIT's CONTACT summer peacebuilding program, then returned a year later to join the MA program in Peace and Conflict Transformation. This week, Dusenge opened her capstone presentation – a study of genocide survivors and perpetrators – by asking everyone in the classroom for their definition of courage. Citing her tenacity in overcoming challenges to complete her MA, Dayton said, "That's my definition of courage."
Dayton also lauded the work of Taliesin Haugh of the SIT Sustainable Development program as "a case study in optimism." Haugh created a five-year plan for sustainability at SIT that "will also save the planet" through permaculture and responsible land use.
In her capstone, Mary Duggan of SIT's Intercultural Service, Leadership, and Management program "answered the question of whether the kind of dynamics, shared learning and community required for experiential education can be translated into an online training format," Dayton said. "Your work showed how the values of shared pedagogy can be realized in an online training session. Whether you like digital technology and distance learning or not, it's the world we're moving into."
Kerstin Roos pursued her MA in sustainable development in part because of a lifelong interest in cooking and baking. The former owner of a fine chocolate emporium in Canada, Roos wanted to better understand how she could support women in the global cacao industry to have a healthy and sustainable livelihood. For her capstone, Roos created a business plan for a a community café that would support cacao producers around the world.
Friedman praised five International Education MA candidates including Lucy Burriss, who as an English teacher in rural Thailand always invited her students to introduce themselves in their own language, "giving each person a chance to celebrate themselves and represent their identity in their own words," Friedman said. "Lucy's work taught us by example how a trainer can bring both their head and their heart to their work; that there is no need to prioritize one over the other."
Nicholas McIntyre worked with undergraduates studying abroad who identify as transgender, and learned that while they experienced significant challenges, they also felt strongly that study abroad had been a transformational experience. "His work gives voice to a group of students who are often marginalized and often under-represented in study abroad," said Friedman, adding that she looks forward to seeing McIntyre's continuing research.
Megan Melbourne detailed her work in international education at the University of North Georgia, a military college where many of the students have never traveled. To open doors to global education, Melbourne needed to find out where they were comfortable, so she created "Outlander Abroad," a program based on the popular television show Outlander.
Marija Nikolic, who completed SIT's international education low-residency program, focused her capstone on U.S. government-funded Fulbright fellowship programs which she found did not offer enough support for students re-entering their own cultures after their fellowships ended. Nikolic created a program to support fellows' re-entry through digital and face-to-face sessions that helped students explore and understand their experiences. Her work "exemplifies the core of experiential learning," said Friedman. "Real learning only takes place when a student is given the space to process what they are experiencing."
Another international education student, Stefani Sellers, worked with the International Language Institute in western Massachusetts to develop an international language travel program, including a marketing component, a detailed curriculum, and a budget.