SIT alumna receives service award for her work in disability rights
At the age of eight years old, Sefakor Komabu Pomeyie contracted polio, a disease that left her with restricted mobility. She remembers having to crawl on the ground to enter her school in Ghana because it didn't have ramps for wheelchairs.
Instead of being deterred from going to school, she knew education would make her stronger.
"You can only survive through education," the disability rights advocate, educator, and School for International Training (SIT) alumna recalls her mother saying.
Komabu Pomeyie completed a master's in sustainable development at SIT in 2013. She is currently working on a PhD in educational leadership and policy studies at the University of Vermont while she continues to advocate for the rights and services of persons with disabilities (PWD) around the world.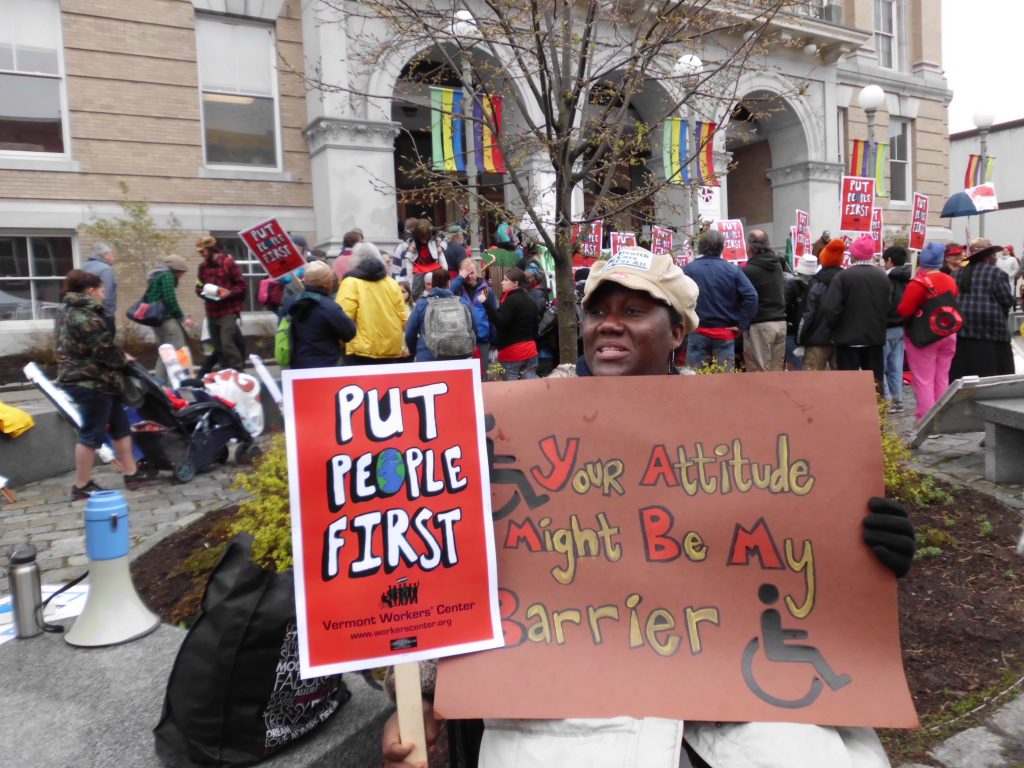 Over the years, she has been the recipient of numerous awards recognizing her work advancing inclusion. (Defining Excellence Award from the University of Vermont in 2017 and the International Alliance for Women Award in 2012, to name a couple).
On November 13, Komabu Pomeyie added one more to her list of honors -- the 2018 International Service Award from the Association of University Centers on Disabilities (AUCD). The association is a network representing more than 65 University Centers for Excellence in Developmental Disabilities in every state and territory in the U.S.
About receiving the award, Komabu Pomeyie says: "I was surprised to hear about it. I'm not just well known in my corner of the world but also internationally." She adds, "The work that I've been doing fights for rights across cultures and internationally. People are following me and watching. It's a good feeling."
While most of the AUCD awards are given to European activists, Komabu Pomeyie is one of a handful of Africans to be recognized by the association. "Disability rights and access isn't just a Ghana issue or a U.S. issue. It's a big international issue," she says.
Celia Feinstein, past president of AUCD and chair of the 2018 awards committee, says Komabu Pomeiye "exemplifies the tenets of the international service award."
"Despite her own personal struggles, Ms. Komabu Pomeiye has worked tirelessly to ensure that people in Africa enjoy the rights espoused by the UN Convention on the Rights of People with Disabilities," says Feinstein.
Komabu Pomeyie points out that inaccessibility is why most people with disabilities around the world don't go to school, and she's working hard to change that.
In 2013, she was among the first group of World Learning's Advancing Leaders Fellows, winning a changemaker competition and a grant of $10,000 for her project called Accessible Schools Campaign.
That successful media campaign led to her founding the NGO Enlightening and Empowering People with Disabilities in Africa (EEPD Africa) — an advocacy group created to make inclusion Ghana and beyond a policy priority.
Feinstein says the organization is the first of its kind in Africa.
Komabu Pomeyie has also joined forces with the WaWa Project, a nonprofit organization in Ghana helping local schools renovate their facilities to make them handicap-accessible. The organization is drawing on ideas from her master's thesis as it retrofits a school in Ghana using Universal Design Concepts that will ensure full accessibility for people with any disability.
Soon, she says, she'll be rolling out a bigger project to advance inclusive international education in the region.
Komabu Pomeyie believes the benefits of her work in Ghana will extend far beyond students with disabilities. "You go to school, be a taxpayer, and be productive rather than be on the streets begging," she says.